S.E.A. Aquarium X Almostasthma


Had an absolute pleasure to collaborate with S.E.A. Aquarium SG for their campaign, Sea of Unseen Colours! I've created plenty of marine animals illustrations, as well as x4 accompanying IG filters. These illustrations are found around the 4 habitats of the aquarium, and were adapted to overhead decoration, directional signages and educational boards.

I've also created Whatsapp stickers that you can download here

.

The campaign had a particular focus on Planktons and how they contribute to the marine ecosystem. To highlight that, I've created the planktons in bright colours, and some of them the same sizes as fishes so they can stand out.

I was also invited to their

media preview

, and had the privilege to

bring my family to view my collaboration

, which my baby niece thoroughly enjoyed.

Please head over to

S.E.A. Aquarium's Instagram account to use the filter

on your phone. The gifs below are the filters in reduced frame rate to accommodate to Cargo's upload limitations.

Campaign runs 1 Apr - 21 May 2023, S.E.A. Aquarium Singapore.





[2023]

Let's join the party!


My first solo showcase at Tampines Regional Library, organised by National Library Board. I created a new IG filter, a target tracker where users can look through their phones to see 12 zodiac characters having tea in a peculiar garden. This was accompanied by large panels with movable windows, so guests can walk in to the space to find out more about the characters, some what like a huge interactive storybook. I named this work, Let's join the party.

(Please scan QR code below, hover phone over the main key visual to activate the IG filter)

Zodiac panels of fortune readings in CNY has definitely inspired me for this piece of work. Considering the site to be at NLB and most guests families, I thought having zodiac as the main characters will be a fun sight, especially during the CNY period. I also want to convey positive message of having fun in the company of friends and family during the festive season.

Existing filters made by me were also on the showcase panels. This showcase was also part of Singapore Art Week 2023. As part of the showcase, I also had the privilege to conduct workshops to teach how to create your first IG frame filter. Responses were good as members of public were able to create their very own IG filter.

Showcase on display: 7 Jan - 19 Feb 2023
Credits below:
Organiser: NLB (Alina, Melissa)
Designer: Zhi Hong (Outer panels)
Text: Alina
Build: Neon (Raymond, Kenneth and crew)
Video: ALICE crew
Characters' text: Eddy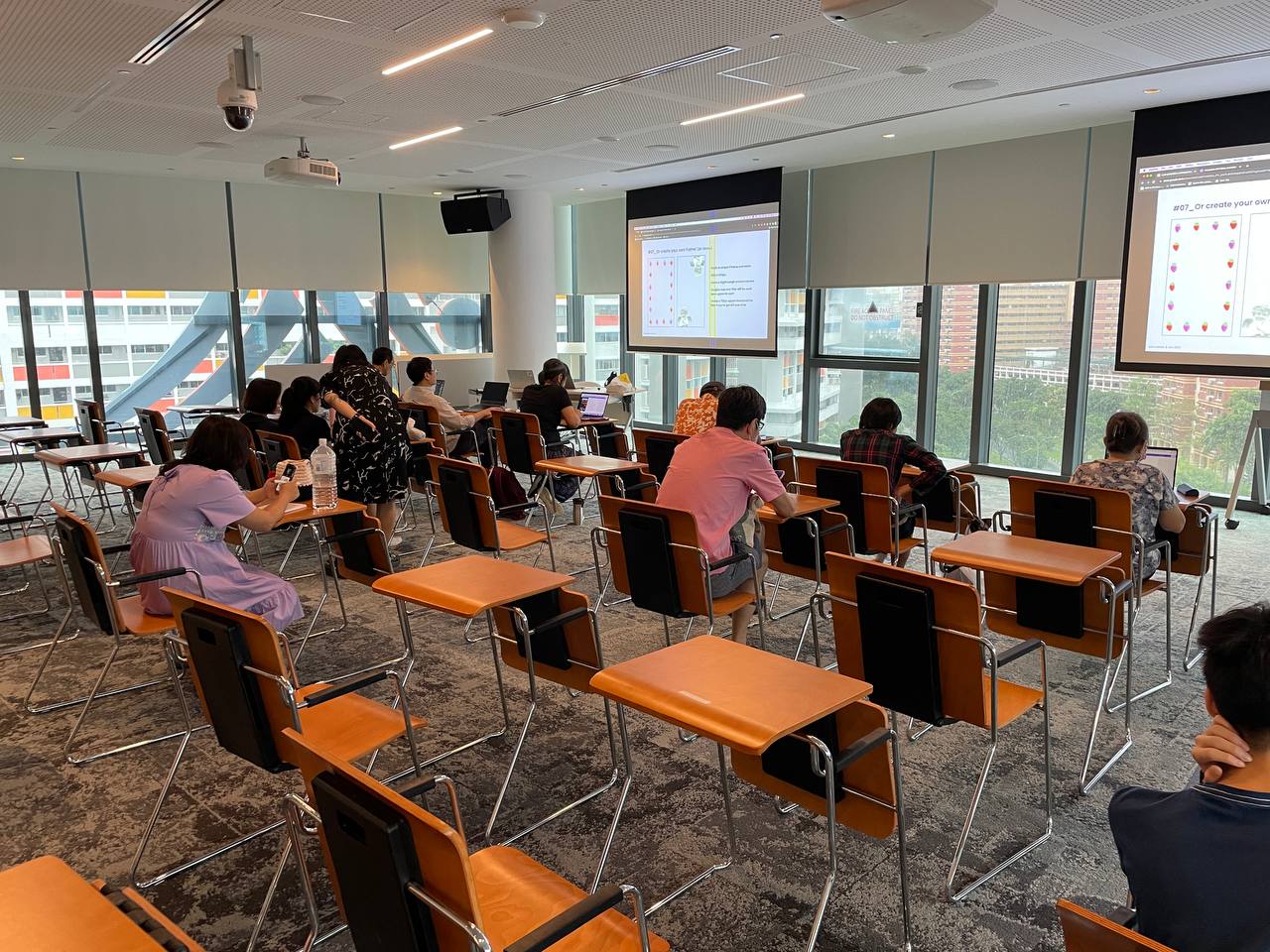 [2023]

Alipay


Alipay+ is a cross border payment solution that can let you reimagine your destination. 🌏 Created a small illus to depict digital lifestyle! Now I can have bbt anytime anywhere 😌🧋

[2022]
Coexist



Completed banner on HDB




Final banner artwork


Coexist is a love letter to Jurong Lake Garden that I usually enjoy long strolls at, noticing squirrels hopping around and rows of Casuarina trees adorning Taman Jurong 💖 Due to covid, everything seem to be imported to the digital realm, even workshops that were conducted online. Hence the theme of Coexist- living alongside digital realm.

In Dec 2021, I held a basic principles of design and 101 of Figma for residents of TJ who collaborated on some the individual banners. Selected this application because it is free, has an intuitive interface and easy learning curve for production output. I had a practice squirrel, teaching participants to create images using preset shapes and pen tool within the application.

Unfortunately the banners were only up Feb-Jul 2022 which I missed seeing them irl 🥲 this is my largest outdoor installation so far and a dream to work on hehe ✌🏻Thanks Jurong, you will forever be my fav

#westsidebestside



HDB picture credit: Ying Wei


[2022]

Almostasthma x The 1925 Brewing Co.


The original label for BLK 622 was a homage to the creators' grandparents' place, and a pun to the blackness and ABV of the ale. It features a bold and dark design, so I wanted a total 180 change to make it effeminate, giving it Mean Girls but cute vibe cus cool girls drink dark ale too. Get in loser! We're going to BLK 622 & Slivin' in our cute black dress. 🖤🖤🖤

Tap to see WIP on tiktok.
The theme was SG's dream beyond Covid, so I wanted to create a ~mood~ thing associated with drinking, regardless of covid we'll be always chillin' 😎 Taking cue from its name, I wanted people to enjoy a good MUSANG King Ale like the king cat in front of the mountainous durian range, being revered by other cats. It's a purrrrrfect world 🍺 Distinctive notes of the pale ale are brewed using only Musang King Durian.

Tap to see WIP on tiktok.
Lucky to be 1/6 artists selected for collaboration with 1925 Brewing Co., supported by NAC and TaFF. Beer with our collaborated designs were available exclusively for purchase at Design Orchard during 10 Feb - 3 Apr 2022. Works were created from scratch using Blender, Illustrator and Photoshop. Also had the privilege to be featured in The Best Bottle Label Designs by DesignRush!

[2022]